Baralacha Pass
Connects Lahaul to Ladakh
Baralacha Pass is a high mountain pass in the Zanskar Range and connects Lahaul district in Himachal Pradesh to Ladakh in Jammu and Kashmir. Baralacha La means "a pass where many roads meet." It is situated at 4890 m ( 16, 040 ft ). It is a high plateau with three different mountain ranges- the Great Himalayas, Pir Panjal and Zanskar, which meet at an altitude of over 16, 000 feet. This pass is one of the highest passes in Ladakh and is situated around 73 km from Keylong on the Manali – Leh road. The Bhaga river, a tributary of the Chandrabhaga river, is located a few kilometers away from the pass and originated from the Surya Taal. Chandra, another tributary of Chandrabagha, also originated from a glacier in the region. The pass acts as a natural divide between the rivers Yunam and Bhaga.
Suraj Tal – The Source of Bhaga River
Legend has it, that there were two lovers- Chandra, the daughter of the moon and Bhaga, the son of the Sun God. They decided to climb the Baralacha La to perform their marriage, from which they ran in opposite directions. Chandra reached Tandi with ease, whereas Bhaga reached there with a lot of difficulties after struggling through the narrow gorges. The two finally met at Tandi, forming the Chandrabhaga, and their celestial marriage took place here.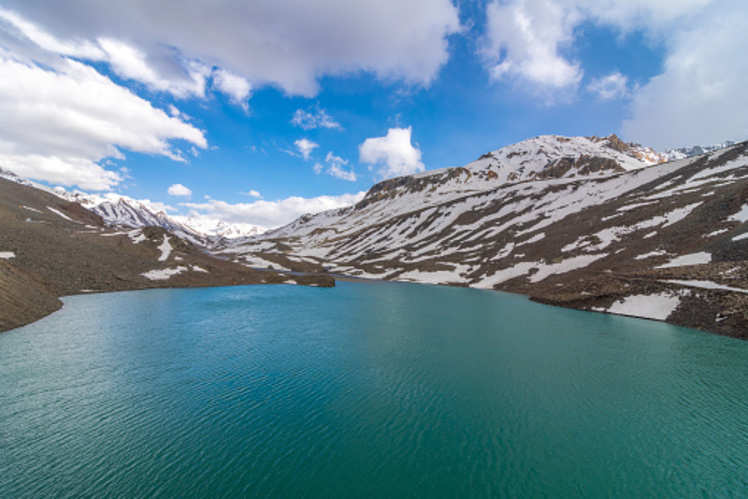 Trekking and Adventure at Baralacha Pass
This Baralacha Pass is the starting point for many treks, including the famous Suraj Taal and Baralacha Chandratal trek. One will also have to cross this pass if one is traveling by road from Manali to Leh. While trekking, one can stay in tents at campsites or with the locals. Now it's becoming famous among skiers because of the lofty slopes and amount of snow at Baralacha Pass.
What is the best time to visit Baralcha Pass?
The best time to visit the Baralacha Pass is between June-October, as the snow melts, which makes the road open for travelers. The pass is closed during the winter due to heavy snowfall.