Offbeat Things to do in Delhi this weekend
Delhi is undoubtedly a not-to-miss tourist destination in the whole country! Well, though this city is steeped in glorious tales of history, it also proves to be an ideal destination for the adventure junkies and offbeat things to do over the weekend be it camping, rafting and now even trekking in Aravalli Range. As seen among the adrenaline seekers, adventure sports and offbeat things to do in Delhi have become one of the most sought-after activities in the recent times. For those, who are planning for an extremely enthralling experience in this city, here is a list of some of the top adventure activities near Delhi that you should not miss by any chance.
Camping Aravalli Range 
Oh yes! It happens around Delhi. And better still, it's one camp which combines the best of all the adventure sports you might want to try. Be it Zorbing or Buram Bridge!
Rock Climbing at Indian Mountaineering Foundation
Not only is it at a stone throw's distance, it offers the best equipment at such inexpensive rates, What's more: You get to meet some really crazy (in an awesome way of course!) people. At Indian Mountaineering Foundation you have massive artificial wall for rock climbing, bouldering area and other activities like zipline etc.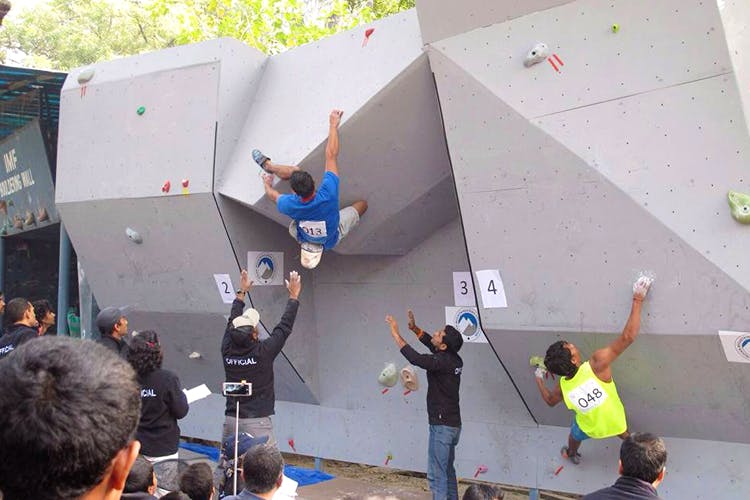 Para Sailing at Rocksport (Rajendra Place)
You absolutely must see the aerial view of Delhi once in your life. It's surreal! Especially when you have friends around. Literally in air. You got your wings! Fly away.
Sky Diving at Sky Riders (Haryana)
If you want to get an adrenaline kick which can sustain you for a week and more to come. Go for Skydiving. Freefall from the sky, not for the faint-hearted!
Bungee Jumping at Wander Lust (Greater Kailash-II)
Your buddies have hung up on you so many times right! It's time you get 'hanged' together! Jump from a great height only to get a smooth, thrilling bounce!
You'll love your weekends after this one!
Flyboy Air Safari in Gurgaon
Flyboy Air Safari Delhi is one step ahead of the traditional adventure activities. If you are done with exploring all the available adventures on land and water then it is certainly time for you to explore the clear blue sky.
Fulfill your childhood desire of flying like birds. Indulge in an exciting Air Safari that takes you on a flying tour on the suburbs of Delhi. Enjoy a stunning aerial view of lush-green grasslands and amazing farm houses while gliding in the air.
F9-Go-Karting, Gurgaon
Get ready for a heart-racing experience of go-karting like never before with f9-go-karting Gurgaon!
Test your limits, break speed records with other members. With the tracking lap of around 350m with in-built challenges provide you with an F1-racer experience.
Paintball at Rockshot Paintball (Pandav Nagar Ext.)
The perfect way to get back to the friend who put you down! Get those Guns and ammo ready, there are multiple options for Paintball game with other Things to do in Delhi this weekend.
Awara Adventure Farm, Sohna
Gather your wits as you embark on some real adventure by indulging in Suspension Bridge, Commando net, Zipline and parallel rope. For people who like to sit and relax, can engross in brain tickling activities like chess, carom, and ludo.
Zip Flying at Flying Fox Neemrana (Rajasthan)
We bet you haven't done it! And that is why you must and go further with camping and trekking in Arravli range near Alwar city which offers unique stays and  Things to do in Delhi this weekend life Star Gazing, Jeep Safari, Off Roading trips in and around Sariska Tiger Reserve.