Best of Trekking Weekend Getaways near Bangalore
If you are tired of spending your weekends in Bangalore only sleeping, chatting with friends or watching movies, then why not try something more exciting and thrilling? Are you looking for offbeat weekend getaways near Bangalore, where you could challenge your limits, yet feel refreshed? Well, the weekend treks are the perfect weekend getaways near Bangalore where you could just be perfect for you. All you need is a backpack of necessary things, your and a heart full of enthusiasm to enjoy every bit of the walk.
These Trekking Weekend Getaways near Bangalore are not too long, tiresome or difficult to climb. Rather, they are green retreats for adventurous souls, who wants to enjoy the journey as much as the destination. They can be easily reached from the city and are safe. Some of them also offer adventurous activities to be enjoyed on the spot. And, of course each of them is dotted with scenic beauty and abundant greenery. Check them out here.
Offbeat Weekend Getaways near Bangalore
Bheemeshwari Trek
Bheemeshwari Trekking Weekend Getaways near Bangalore is rugged terrain with lush green surroundings, lively streams and wildlife like deer, elephants, wild monkeys and others is about 110 kms from Bangalore. The river is also an apt place for swimming, rafting and other water sports which makes it a perfect bangalore weekend getaways. There are jungle lodges and adventure camps to make your stay more pleasant. It is well connected by road, however, they should be avoided during the monsoons. The best things to do in Bheemeshwari are boat rides, fishing with stay in fishing camp few of them are Cauvery Fishing Camp, Doddamakkali Nature Camp, Galibore Fishing Camp.
Altitude: 800-1200 metres
Trek Length: 5 kms
Best Time to Visit: November to February
Savandurga Trek
This hillock, which is about 60 kms from Bangalore is the largest monolith in Asia. It is basically a combination of black and white hills. The rock formations are quite a sight. Apart from the scenic beauty, trekkers can also enjoy rock climbing, rappelling and other activities. Savandurga height is around 1226 meters or 4220 feet above sea level and it comprises of twin peak of Karigudda (The Black Hill) and Biligudda (The White Hill). Explore the ruins of fort built by Kempegowda and if lucky during winter season you can find migratory bird as well.
Altitude: 1226 meters
Trek Length: 4 kms
Best Time to Visit: November to February
Dudhsagar Water Fall Trek 
Literally meaning the Sea of Milk, this is a four tiered waterfall, which is one of the tallest in India. It is like a border between Karnataka and Goa. Around 550 kms away from Bangalore, the place can be reached by car or rail since is lies on the Madgaon-Belgaum route. The scenic beauty is breathtaking and a treat during the monsoons. You can also camp for the night near the fall, which is an experience in itself. By the way, did you know Dudhsagar Falls appeared in the Bollywood movie 'Chennai Express'?
Altitude: The waterfall streams down from 310 meters
Trek Length: 6 to 8 hours for 14 kms, can go up to 26 kms
Best Time to Visit: Monsoons
Ramanagara
Ramanagara is another popular weekend getaway destination near Bangalore. It is mainly a rocky terrain and quite an adrenaline rush for rock climbers. It is around 55 kms from Bangalore. Other attractions include historic caves and Vulture Sanctuary, which has some of the rarest species of the bird.
Altitude: 747 meters
Trek Length: 6 kms
Best Time to Visit: November to February
Antaragange
Antara Gange is one of those night treks, which will enthrall you with excitement and adventure. This is around 70 kms from Bangalore in the southeastern portion of the Indian state of Karnataka, Kolar district. Antara Gange literally means " Ganges from Deep" in Kannada. It is basically a temple in a pond in the mountains, surrounded by caves. It is really amazing to visit the caves in the night to experience their beauty.
Altitude: 22 meters (around 70 feet)
Trek Length: 4 kms
Best Time to Visit: November to February
These are only a few of the amazing treks that are splendid tourist attractions. Others include Kanakpura, Makalidurga, monsoon delights like Kodachari and Kudremukh trek, and few unique night treks like Kabbal Durga and others.
If you are adventurous and want to explore Mother Nature on foot, these treks are a great opportunity to relish the serenity and tranquility of Nature. Though these treks are safe, but it is advisable to take necessary precautions and consider any health conditions, prior to choosing any of them.
Here are some other queries we get from our wanderlusterrrs!!
What are the other Long Weekend Getaways from Bangalore within 300 km
Mysore Palace.
Abbey Falls in Coorg.
Ooty.
Vintage Tricycle in Pondicherry.
Beach in Mangalore.
Vandiyur Mariamman Teppakulam Temple in Madurai.
Boating in Kodaikanal.
Tea plantations and Muthirappuzhayar River in Munnar
Here are 5 Weekend treks from Mumbai that will take you into nature's lap and back in no time at all. The beauty of these treks is that you can go there round the year, except during the heavy rainfalls.
5 Best Weekend Treks near Mumbai
When Mumbai gets crazy with traffic, pollution and towering concrete jungle, you just have to take that time out for a hike into the serene hills. The Himalayas are certainly unreachable over the weekend but you have ample options of Weekend Treks Shivaji's timeless forts, cascading waterfalls, Kanda bhajjias and Sahyadaris to look forward to instead of snow and sweaters on a weekend trek from Mumbai.
Here are 5 Weekend treks near Mumbai that will take you into nature's lap and back in no time at all. The beauty of these treks is that you can go there round the year.
Weekend Treks near Mumbai
Rajmachi Fort
Altitude: 2710 ft
Distance from Mumbai: 95km
Duration: 1 Day
This weekend Trek near Mumbai to Rajamachi Fort wrought with history and a proud witness to the Anglo- Maratha battle, this is a fort you can't miss if you're in Mumbai. Located in the Sahyadari Ranges, the 17th century strategic fort that Shivaji built, has the most amazing view of the mountains and the Shirota Dam. There are two routes up and you can choose between the easier one starting from Lonavala or the steeper one starting from Kondivade near Kajrat. Atop the fort are two structures of historical importance – Shivardhan and Manranjan that can be explored. The caves are comfortable camping places if you want to spend the night in the ancient set up. The tranquil trails in Rajmachi takes you past waterfalls, hill ranges and dense foliage.
One Tree Hill Trek
Altitude: 2625 ft
Distance from Mumbai: 90 km
Duration: 1 Day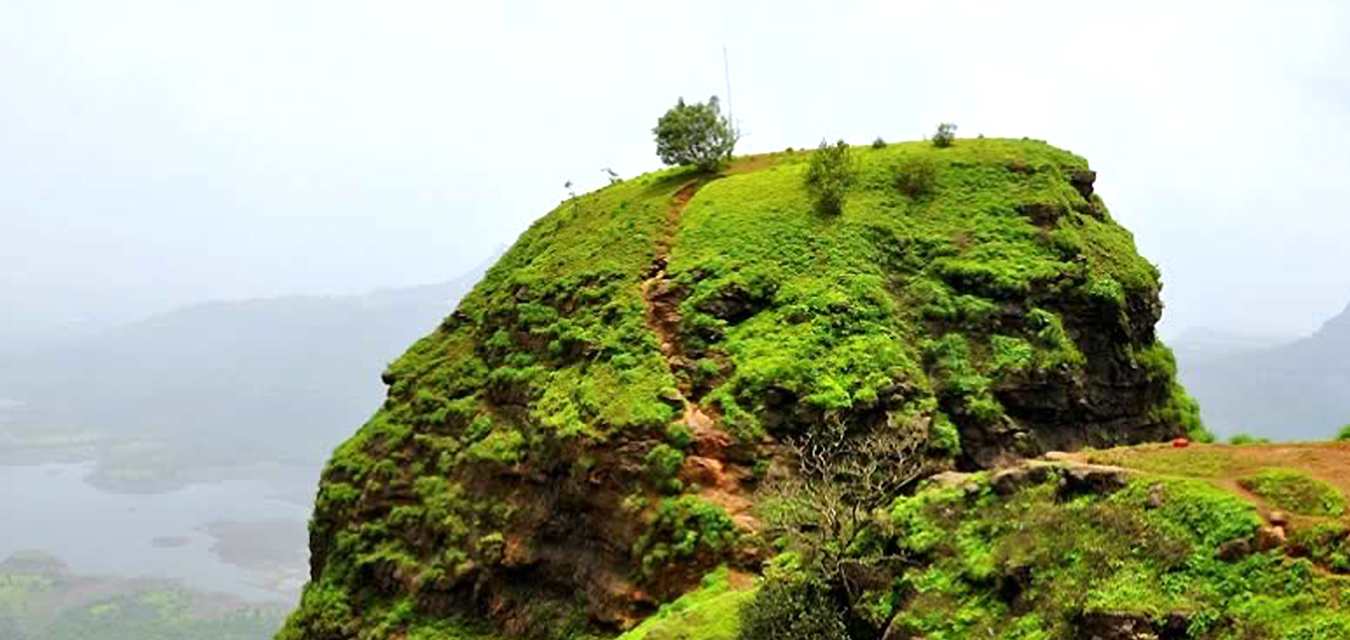 This weekend Trek from Mumbai is in Matheran which is a paradise perched high in the Western Ghats within reach for the weekend trekkers of Mumbai. The sylvan landscape and the lovely lake forms the backdrop at Matheran and the colonial style architecture stand as a heritage of the colonial era. The region is declared eco – sensitive and therefore no vehicle is permitted in this green region. Medicinal plants and herbs grow in plenty here and the forest here, boasts of the leopard, barking deer and rare species of Nilgiri Wood Pigeon, White Rumped Shama, Brown Wood Owl and Boar. The most adventurous trek route would be One Tree Hill that trails through dense forest and through rocky boulders. This trail from Ambewadi is known as the Shivaji Ladder route. If you plan to camp here, a sleeping bag is a good idea since the nights are chilly. After a trek of three hours and exploring the surrounding area, one can take the return route via Dasturi Nakal and the picturesque Kajrat district to head back home.
Harishchandragad Trek
Altitude: 1294 Feet
Distance form Mumbai: 186 km
Duration: 2 Days
The ancient hill fort of Maharashtra, with a history dating back to the 6th century built in the Shaivaite tradition, offers a challenging trek in the Western Ghats. Harishchandragad in Ahmednagar region has a cliff that you will have to climb at an incline of 80 degrees, a task that will demand your strength and definitely give you something to boast about later. This route via Nalichi Vaat starts from the stream bed and leads up to the gorge. Climbing gear is advisable and you have the option of tents or the ancient caves for a night camp. The cobra hood shape of the Konkan cliff, the panoramic views of the surrounding hills and stunning sunset are highlights on this trek.
Jawhar Hill Station and Waterfall Trek Trek from Mumbai
Altitude: 1475ft
Distance from Mumbai: 145 km
Duration: 1 Day
The tribal kingdom of Maharashtra is a quaint lesser frequented hill station often called the 'Mahabaleshwar of Thane District'. Surrounded by lush greenery and amazing water falls, a trek at Jawhar is an out of the world experience. The Kal Mandavi waterfalls flow through the year and can be accessed through a path through green, dense foliage. A picnic lunch here would be perfect before returning to the village. The village itself has some really beautiful spots like the lake and the dam and the cultural heritage of the tribes.  Picking up an exquisite Worli painting is an added bonus you don't want to miss.
Durg Dhakoba Trek
Altitude: 3900 ft
Distance from Mumbai: 175 km
Duration: 2 days
The area between Naneghat and Bhimshankar ranges in Pune has the Durg Fort and the Dhakoba range- the two highest peaks on the plateau giving a view of the green forests, tribal hamlets and vast meadows stretched out below. The climb up to Durg from the Konkan ghats is steep even for seasoned trekkers but the Deccan side can be climbed with ease. Starting from the meadows and fields the trail comes in view of the ranges, pass through serene woods and starts ascending until you reach the top of Durg to view the amazing cliffs, rolling hills, meadows and forests. Dhakoba is another good 2 hours walk from the Durg range with an equally thrilling view.
Can we already see you packing your weekend bags?